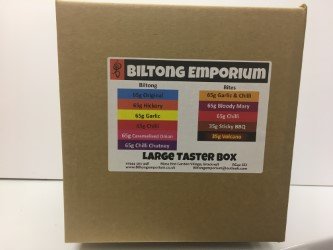 Large Taster Box
This box is the complete package, it contains all but 1 of our standard flavours and bites! Perfect as a gift or even as a week's snack pack.
This box contains
65g of Original
65g of Chill
65g of Chilli Chutney
65g of Caramelised Onion
65g of Hickory BBQ
65g of Garlic
&
65g of Chilli Bites
65g of Bloody Mary Bites
65g of Garlic & Chilli Bites
35g of Volcano Bites
35g of Sticky BBQ
Dietary information, ingredients and allergen information can be found on individual flavour pages as well as on the box.